Introduction
The NextEnergy Capital ("NEC") Sustainability Framework applies to the entire value chain of the business. We place significant importance on mapping our supply chain and understanding all associated Environmental, Social and Governance ("ESG") risks that NEC may potentially be exposed to.
NEC acknowledges that supply-chain risks include a wide range of ESG issues, from labour, occupational, health and safety, biodiversity, climate change, pollution prevention and stakeholder relations. Some segments of the supply chain can be very labour intensive, or source materials from conflict-affected areas, and can pose human rights risks for workers and impacted communities.
We take our responsibility to promote best practices amongst our suppliers very seriously, although we acknowledge that our ability to influence supply chain practices beyond our tier-one suppliers can be challenging, and requires a broader, industry-level engagement strategy.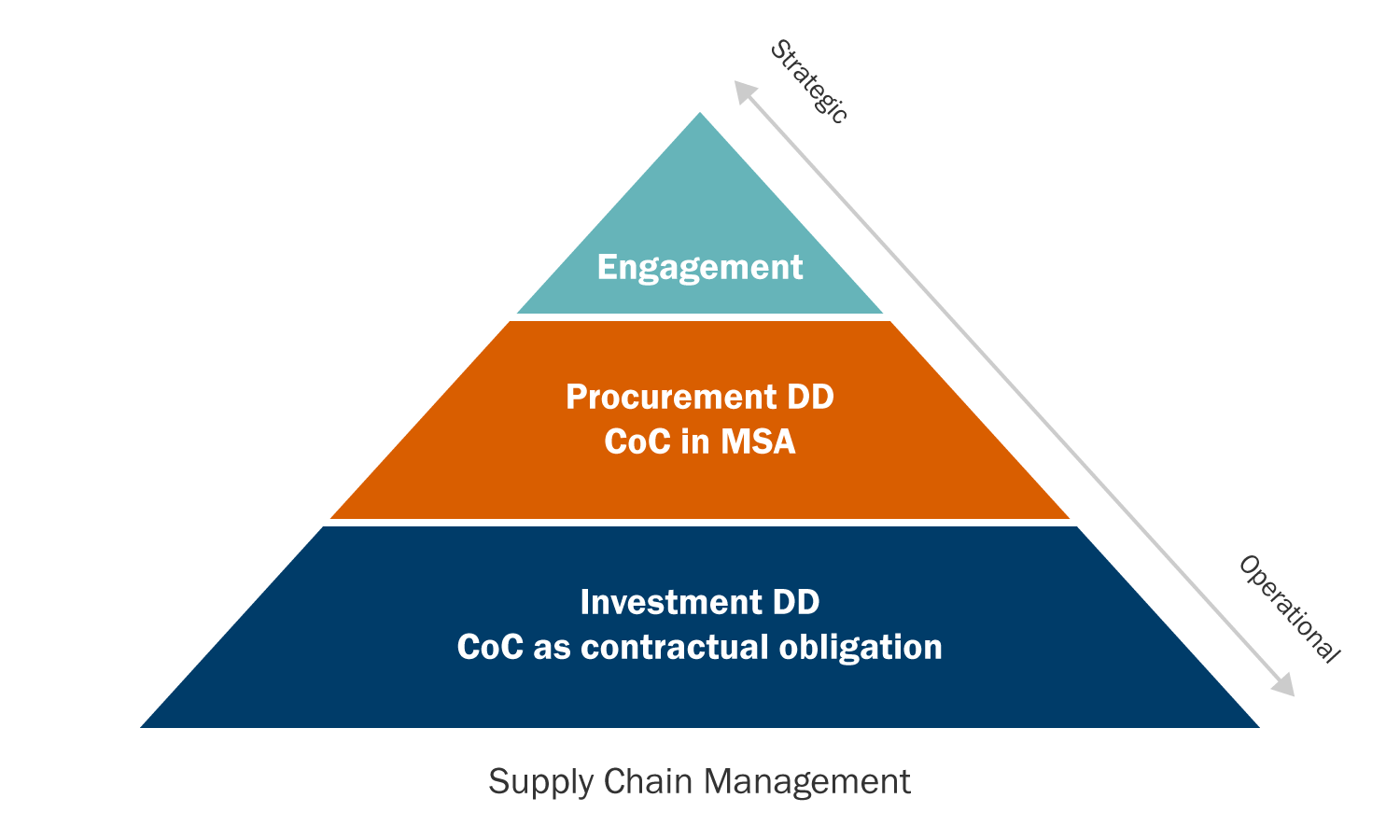 Supply Chain Management
NEC's approach to supply chain management is consistent with the broader approach to ESG risk management. We deal with any potential issues through a parallel process: ongoing ESG due diligence and intensive stakeholder engagement.
ESG Due Diligence
As part of NEC's ESG due diligence process, we have developed specific due diligence questionnaires to identify and assess suppliers' human rights, labour policies and practices, and other ESG factors. This due diligence is undertaken both at individual investment level and at corporate level, with key selected manufacturers with whom NEC has signed or will sign a Master Framework Agreement (MFA). Different due diligence questionnaires have been developed for modules, inverters and battery suppliers.
Code of Conduct for Supplier
In addition to due diligence, manufacturers are expected to abide by our Supplier Code of Conduct (CoC), which includes provisions related to human and labour rights, environment, business integrity, anti-corruption and conflict of interest, and is consistent with NEC's Sustainable Investment Policy and Human Rights Position Statement.
NEC will require suppliers to abide by our CoC through contractual obligations either for each investment (i.e. via EPC or O&M contracts), or at corporate level via an MFA. NEC has developed an MFA to identify and select top-tier, reputable manufacturers with a proven track record of delivering high quality products (i.e. manufactured with high durability, easy dismantling, refurbishment and recycling) and able to comply with our ESG policies and codes.
Forced labour and Modern Slavery
NEC is aware of the recent allegations of forced labour in the solar supply chain in Xinjiang and is committed to preventing modern slavery in its own activities and those related to business relationships, including supply chain.
NEC remains active in supporting global solar trade associations supply chain initiatives, for example signing and agreeing to the Solar Energy Industry Association (SEIA) Labour Prevention Pledge and the Solar Energy UK (SEUK) Supply Chain Statement.
NEC recognises that the threat of modern slavery within supply chains requires a collaborative commitment and willingness to influence change from the sector as a whole. NEC continues to engage with stakeholders, including NGOs, industry associations, reputable advisers and manufacturers to increase transparency and traceability.
NEC's Head of ESG, Giulia Guidi, currently sits as chair of the SEUK's Sustainable Sourcing Task Group, supporting industry efforts to enhance traceability and human rights protections across the entire solar value chain.
Related documents:
Please click below to download NEC's Code of Conduct for Suppliers